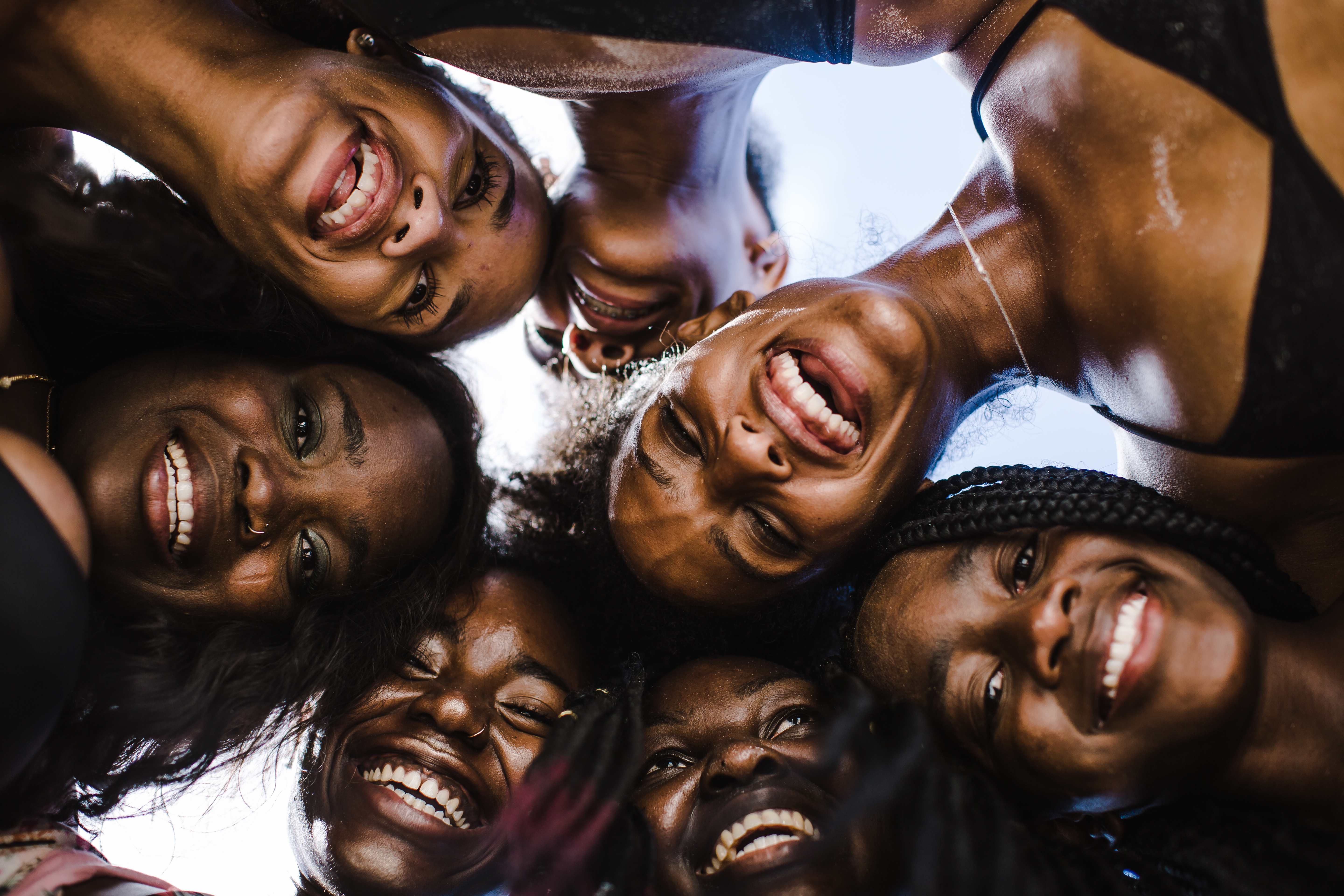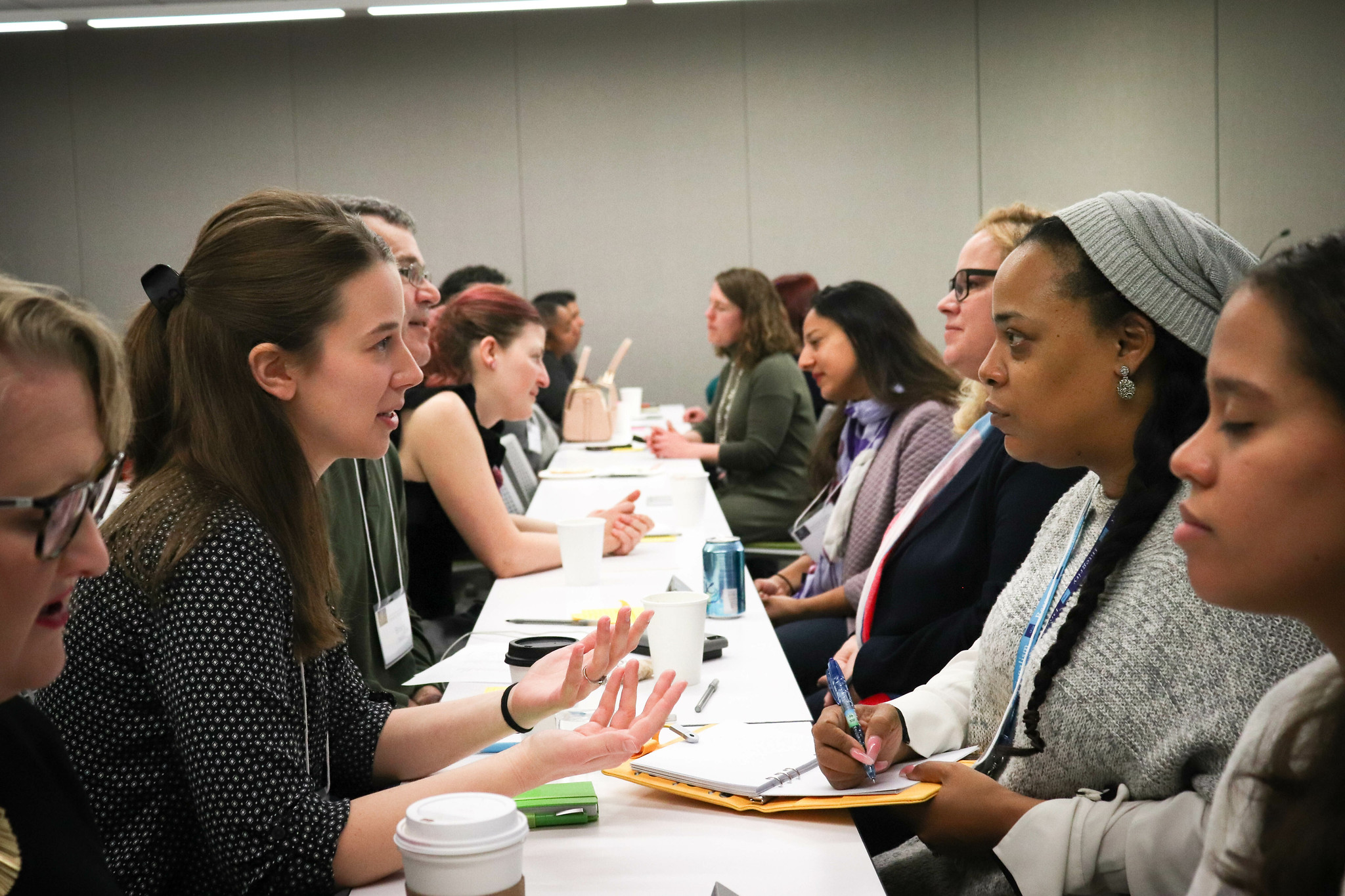 Discovery Research in California
Place-based precision health guides our Discovery research into the prevention of preterm birth. This concept asserts that achieving optimal health at both a community and an individual level requires intense partnering with women, families, community organizations and other professionals to understand cell-to-society patterns of disease and disease states. 
Within this frame, we are particularly interested in understanding and addressing patterns and drivers of preterm birth among Black and Hispanic/Latina women, as they experience higher rates and greater burdens of preterm birth, in San Francisco, Oakland, and Fresno. Consequently, our work focuses on understanding rates, onset, and outcomes of preterm birth among women and infants in these groups, as well as risk and resiliency factors. 
The Transdisciplinary Collaborative
Our transdisciplinary discovery collaborative spans ten departments at UCSF and includes partners from UC Berkeley, UC San Diego, Stanford University, Fresno State University, the University of Iowa, and Cincinnati Children's Hospital. Since April 2018, the collaborative – which plays a key role in all of our Discovery research efforts in that it allows for the contribution of expertise from multiple perspectives – has produced 22 published manuscripts, and as of the end of February 2019, 11 additional manuscripts are in review or in revision. 
---
Mapping Patterns of Preterm Birth in Fresno County
Our work examining patterns of preterm birth in urban, suburban and rural areas of Fresno (Baer et al., J Epidemiol Res., 2018) was powerful for PTBi-CA, allowing our initiative to launch an interactive mapping website that allows parents, community members, public health professionals, clinicians, and researchers to interactively explore patterns of preterm birth in Fresno County. For example, using this tool, users can examine patterns of preterm birth within county neighborhoods along with levels of air pollution in those same communities. Given the established links between preterm birth and air pollution by our group and others, this mapping information could lead to interventions aimed at decreasing exposure to air toxins and particulate matter.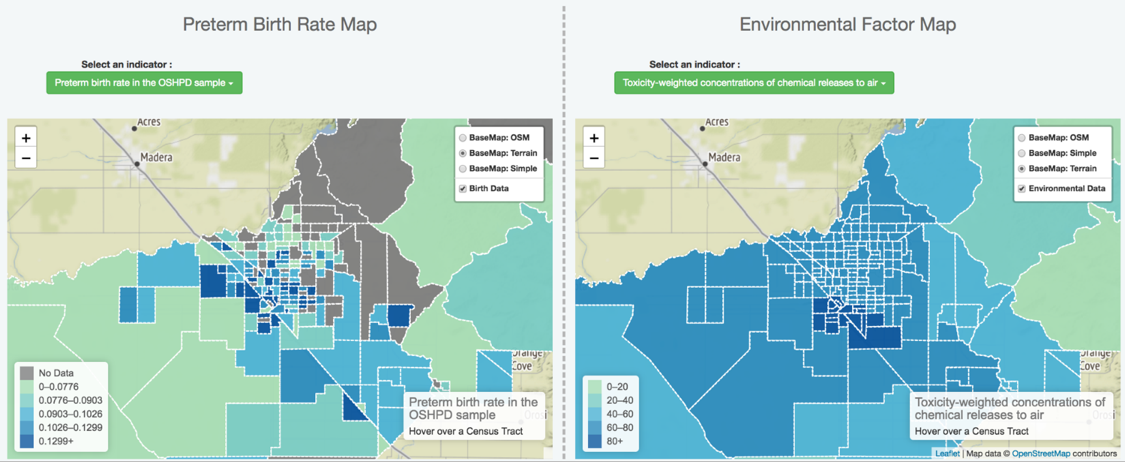 ---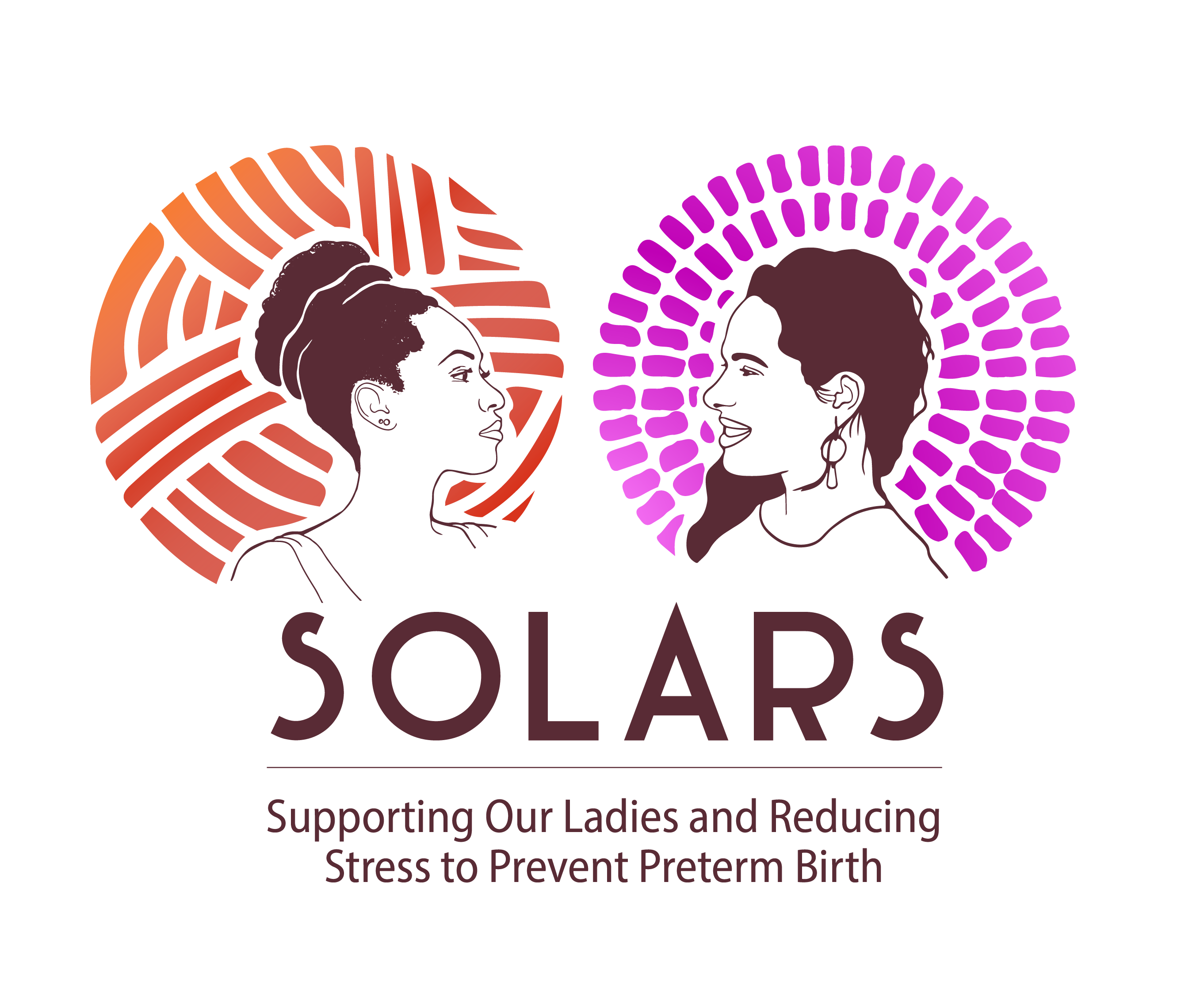 The SOLARS Study: Understanding How Stress Affects the Cells of the Body During Pregnancy in Order to Reduce Preterm Birth in Black and Latino Women.
In early 2019, we launched our Supporting Our Ladies And Reducing Stress to Prevent Preterm Birth (SOLARS) study in Oakland. Led by principal investigators Laura Jelliffe-Pawlowski, Brittany Chambers and Anu Gómez, SOLARS is one of the first large-scale studies to examine the impact of stress, anxiety and racism – as well as resilience and coping – on gestational duration and preterm birth in women of color 
"SOLARS is unique because we are partnering with Black and Latina women to understand how chronic stressors like exposures to racism, perceived stress, intimate partner violence and pregnancy-related anxiety get under the skin to impact gestational duration and preterm birth," says Chambers. "By improving our understanding of these interrelationships – and in partnership with communities most impacted – we hope to design more effective interventions aimed at reducing chronic stress and increasing gestational duration."
Designed by women of color and women who have delivered preterm, SOLARS is one of the first large-scale studies to examine the impact of stress, anxiety, and racism – as well as resilience and coping – on gestational duration and preterm birth. It includes psychosocial measures of stress during and after pregnancy, as well as the collection of biospecimens that will allow the research team to examine how psychosocial stress, molecular stress signaling, and other molecular signaling around immune, metabolic and epigenetic function are related. The goal is to unlock new pathways, discoveries, and findings that can lead to effective interventions to increase gestational duration and decrease the risk for preterm birth in communities of color. The study expects to recruit 500 women over the next two years.
---
The PREPARE Study and Application: Translating Findings Into Placed-Based Interventions
In November 2018, we published a first-trimester risk-scoring framework that characterizes a woman's cumulative risk for preterm birth based on demographic and clinical factors (Baer et al., Eur J Obstet Gynecol Reprod Biology., 2018). Using this framework, we are able to identify women at different levels of risk for preterm birth (see image).
In turn, our Discovery and Prenatal Intervention investigators and partners have been collaborating on the PREPARE (Promoting Resilience and Empowerment through Prematurity Awareness and Risk Education) application that: 
Clinicians can use to help women better understand preterm birth
Women and their providers can use to better understand patient-specific risk
We expect that this tool will eventually include routine prenatal molecular screening markers (e.g., alpha-fetoprotein) and possibly novel molecular factors (e.g., those identified as predictive for preterm birth in our serum prediction test [Jelliffe-Pawlowski et al., J Perinatology., 2018]).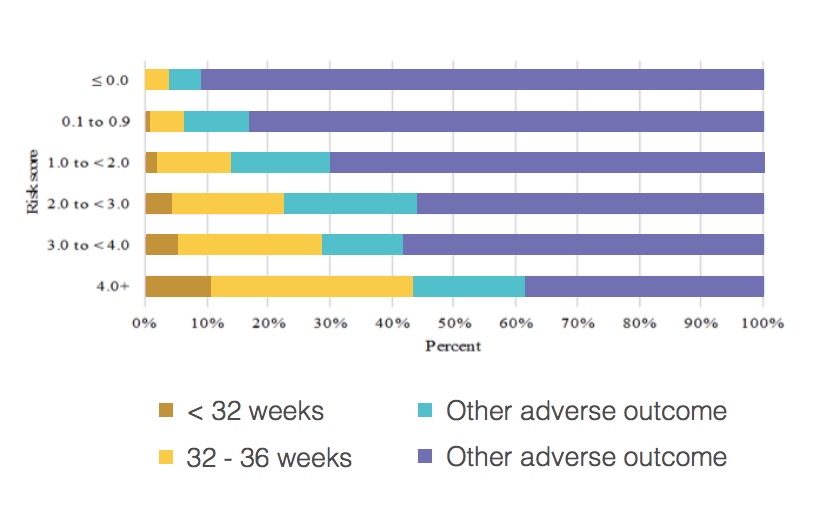 ---
Discovery Research Projects
Ongoing Projects
Hyper-localized air pollution measures and preterm birth in the Bay Area
Telomere Length as a Predictor of Preterm Birth and Growth in Latino Neonates
Persistent human cytomegalovirus infection of the amnion in preterm birth and intrauterine growth restriction
Exploring the dual burden of severe maternal morbidity and preterm birth in California
San Francisco Preterm Birth Review (SF PTBR)
Identifying biological drivers of preterm birth among women with insomnia
Coagulation and Neurodegeneration Biomarkers of Ventriculomegaly in Preterm Infants with Intraventricular Hemorrhage
Utilizing Systematic Screening Approaches to Identify Pesticides that Contribute to Preterm Birth
Completed Projects 
Qualifying risk: Exploring how life course stress experiences influence the risk of preterm birth among Black women
OMX, a novel oxygen carrying protein, for resuscitation in preterm delivery secondary to placental under-perfusion states
Testing exposure to local immigration enforcement as a structural determinant of preterm birth disparities in California counties
Is preterm birth associated with air pollution from oil and gas power plants in California? A natural experiment
---